A Revolutionary patented Wall System for Residential and Commercial building designs. Laurel Mountain Structures unique patented wall foundation systems are engineered for above and below ground installations. The Genesis Foundation Walls far exceed standard concrete, CMU and Tilt Wall applications in both costs, strength value, construction and installation time as well as unbelievable energy savings.
The Genesis Wall Systems is an engineered structural panel with a high R-30 thermal resistance value built right into the wall panel itself, with no need of additional insulation materials. The Genesis Wall panels are the only custom pre-built foundation and wall panel system to have all the following integrated into its design and construction:
High R-Value R-30 thermal resistance value.
Water Retardant.
Fire Retardant. Mold Retardant.
Insect Resistant.
Manufactured Square and Dimensionally exact.
Unsurpassed Strength both vertically, horizontally and diagonally.
Tested and Proven Materials.
Environmental Friendly.
Additionally, the Genesis Wall System installs quickly by crane or standard lifting ground equipment, that shortens the installation time into unbelievable costs savings in labor and time.
The above photo shows a wall system consisting of (366 L.F. of 9'-6" high wall with 20 corners.)
( SET UP TIME WAS 3 HOURS 35 MINUTES )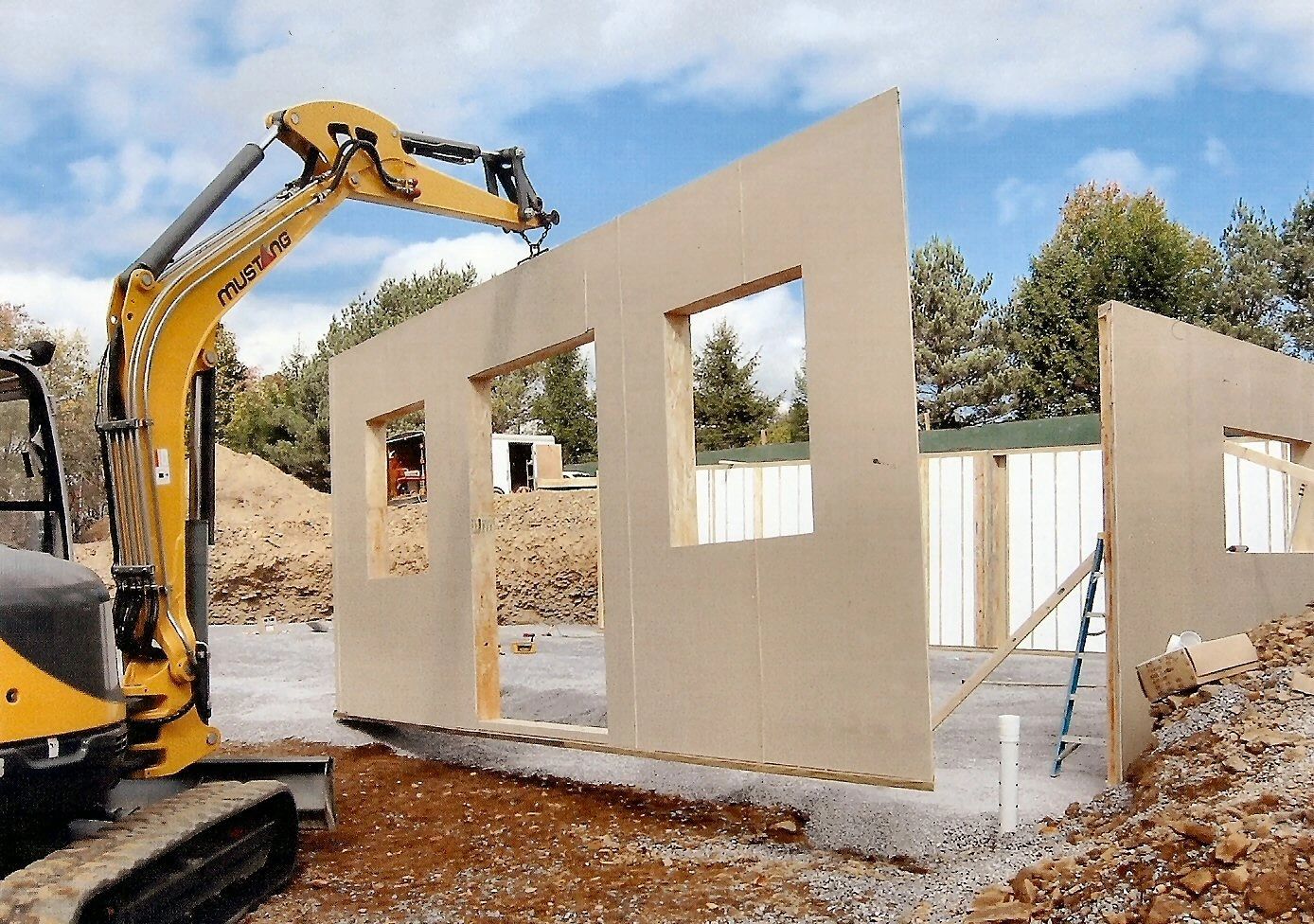 Laurel Mountain's Patented Genesis Wall System utilizes heavy 2" x 8" vertical structural members on 12"inch centers to frame top and bottom plates, 4"x 8" vertical wall beams on 4'-0" centers can be added for additional strength. Window and door openings are built and installed to exact measurements. The interior framing is filled with energy efficient R-30 solid foam insulation, poured into place. The exterior fiberglass sheathing has structural reinforced fiberglass C channels top and bottom. The Wall Panels are completely encapsulated in fiberglass on exterior and a flame resistant water proof barrier on the inside of panel. All window and door joints tightly bonded and sealed. Wall panels can be used for above and below ground applications, and are water retardant, insect resistant, and fire and mold retardant. The Genesis Wall systems are specifically designed for use in hurricane and tornado prone geographic areas, along with seismic areas, and are the foremost cost and time saving alternative to standard construction methods used today.
Genesis Foundation Wall Panels can be manufactured in 48 foot lengths and are engineered for heights up to 14' one panel.
For commercial and industrial use our NEW TALL WALL SYSTEM consists of 12' wide panels x 40' high which makes it perfect for large box stores and warehouse's. Our roofing panels are a tremendous costs saving alternative to flat roof systems of commercial applications, providing a high R-Value of 30 in energy efficiency. With custom prefabricated roof curbs and openings for RTU placements. The Genesis Roof Panel Systems provide tremendous cost savings in both materials, time and installation.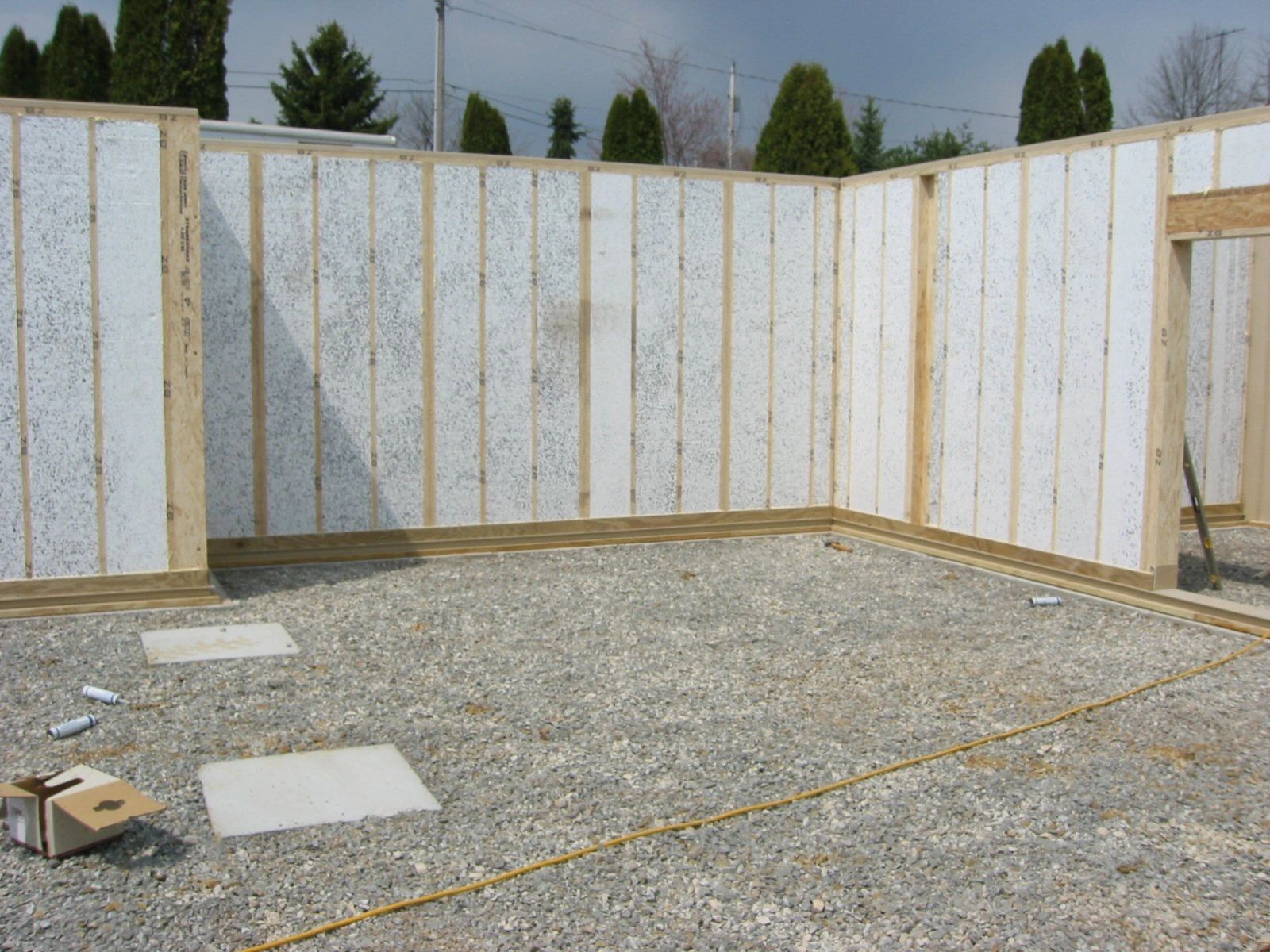 THE PHOTO BELOW IS A 12 STALL CUSTOM HORSE BARN CONSISTING OF 288 L.F. OF 10'-6"
HIGH WALL SET ON CONCRETE FOOTERS IN 3 HOURS TIME USING A SMALL EXCAVATOR.


The simplicity of installation of the Genesis Wall System allows a minimum of 160' linear feet of foundation wall to be installed in less than 1 1//2 hours. And the panels can be designed for whatever weight loads your application requires. The engineered specifications and weight loads of the Genesis Wall System is available upon request. But a picture is worth a thousand calculations.
2005 1st. Panel built and tested. This 8' x 16' Genesis Panel was raised 16" off floor at one end wood blocks at outside corners only. ( This picture was the forth test for this panel the first two test I used a Mustang 2109 that weighs 10,600 lbs. with a 4 point load at tires. The last two tests I used this MTL120 track machine that weighs 9,600 lbs. Each time the machines were allowed to sit on the panel for 25 minutes while Mike Golden took measurements.
(The conclusion was after 4 test of approximately 5 Ton each, permanent deflection was
held to 1/8" overall .) I retired this panel. It currently is the back wall of a carriage house garage and the track marks from the machine are still slightly visible.

New Panel Test date: 10-9-06 Standard Panel.
Panel was raised off ground 6" top of wall and bottom of wall to depict concrete floor and sub- floor system. Test was to measure lateral load weight. Total weight applied in this photo is 27,160 lbs. or 424.37 lbs. per square foot. Load was allowed to sit on wall for 30 minutes DEFLECTION WITH LOAD 3/4" . DEFECTION AFTER LOAD WAS REMOVED 1/16".
No permanent defection was recorded. ( This panel also was used in garage below.)

For information contact info@genesiswallsystems.com.